For the past 30 years, Student Party ECCO has been your voice in the TiSEM Faculty Council. In the past years, our focus has centred around the following topics: Career Development, Quality of Education, Student Welfare and Student Integration. These overarching focus areas have provided a solid base for the many positive changes, innovations and solutions that we have realised in the previous years. Below you will find information on the 2022-2023 candidates for the   and their party program, which summarizes their mission for the coming year.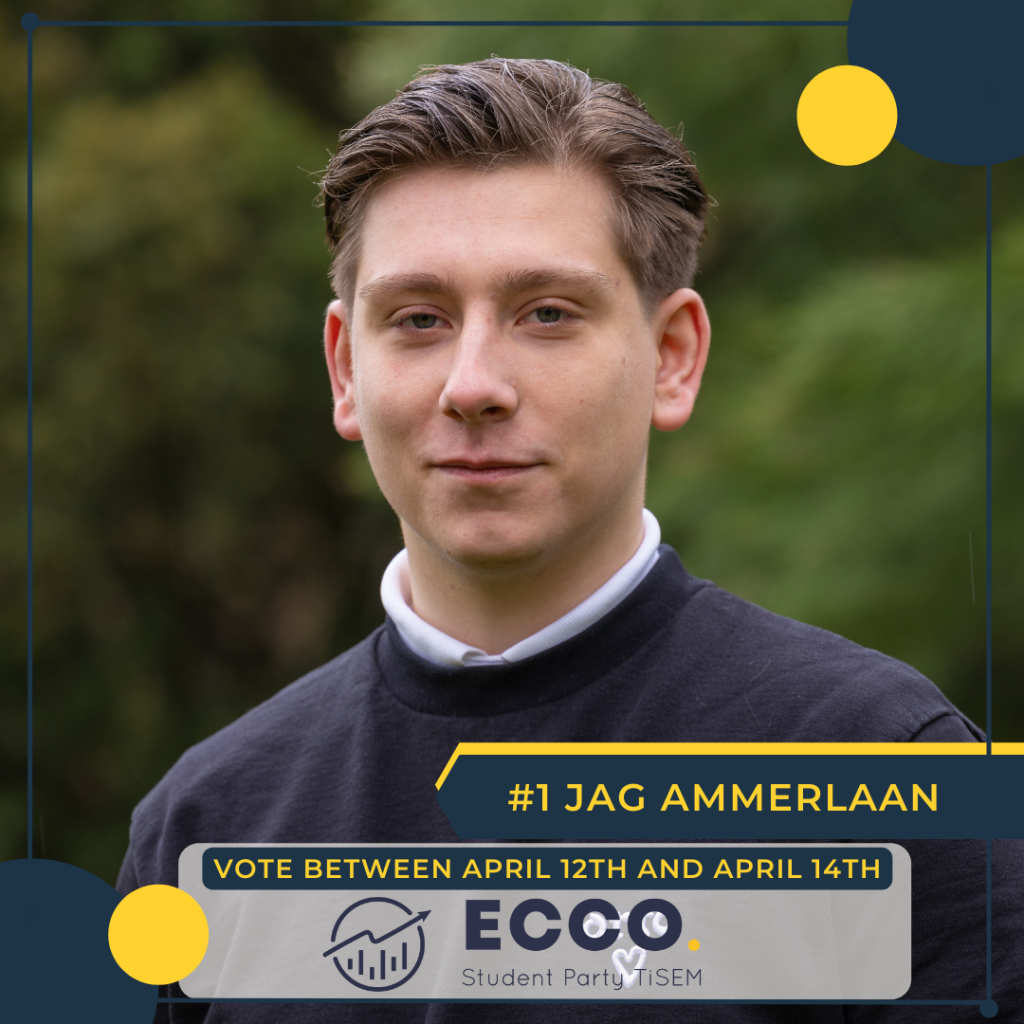 My name is Jag Ammerlaan, I am 21 years old. Next academic year, together with my enthusiastic board members, I plan towards achieving all our party goals in hopes of improving our student lives at Tilburg University.
I am currently a second year Entrepreneurship & Business innovation student. Prior to studying at Tilburg university, I was very hands-on at my high school in Hamburg. Improving my community through charities and school organizations.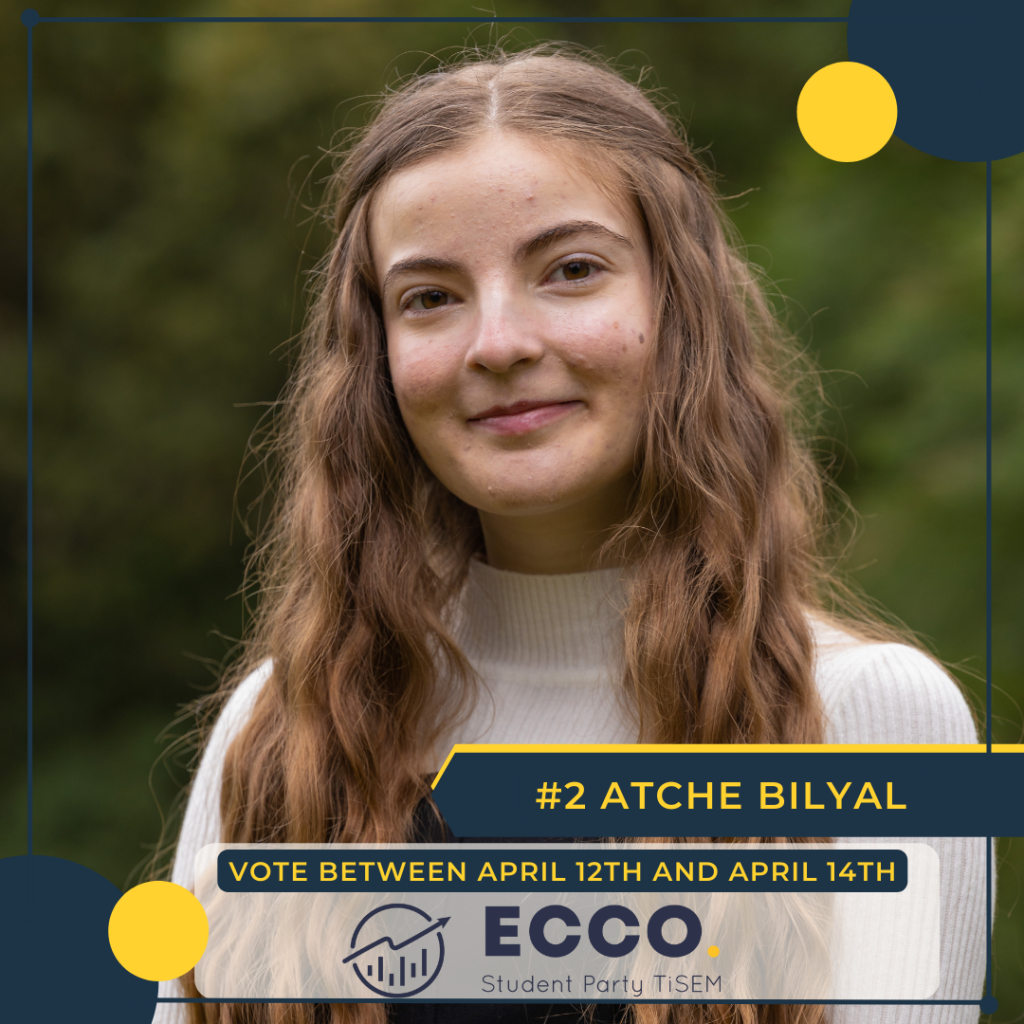 My name is Atche Bilyal. Since the beginning of my studies, I've been representing the IBA students' interests in the Sounding Board and now I want to continue my work in representing all TiSEM students.
I am enrolled in the BSc International Business Administration. Coming from Bulgaria, I am part of the international community of Tilburg University. Currently, I am active in various associations and international organizations, both on-campus and off-campus, including Asset International Business and Management, and Rotaract Club Varna-Euxinograd in my home city.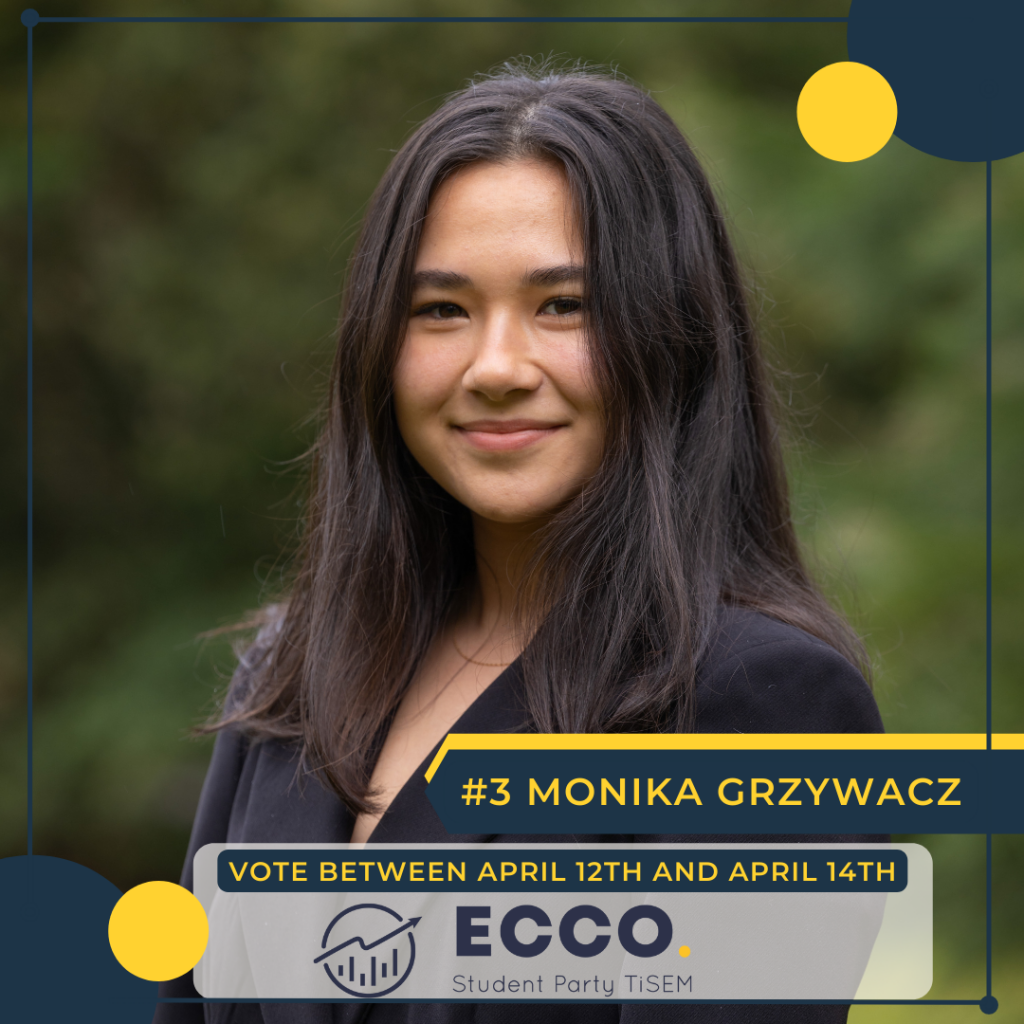 My name is Monika Grzywacz, I'm 20 years old and I am proud to be part of the Student Party ECCO's list of candidates for the 2022-2023 elections. 
I'm currently in my first year of the Bsc International Business Administration. I'm Polish/Taiwanese, but grew up mostly in Venezuela. Aside from my studies, I am an active member at Asset IB&M, where I'm part of the First Year's Committee. My involvement at Asset consists of organizing events for new students to integrate and meet other fellow students.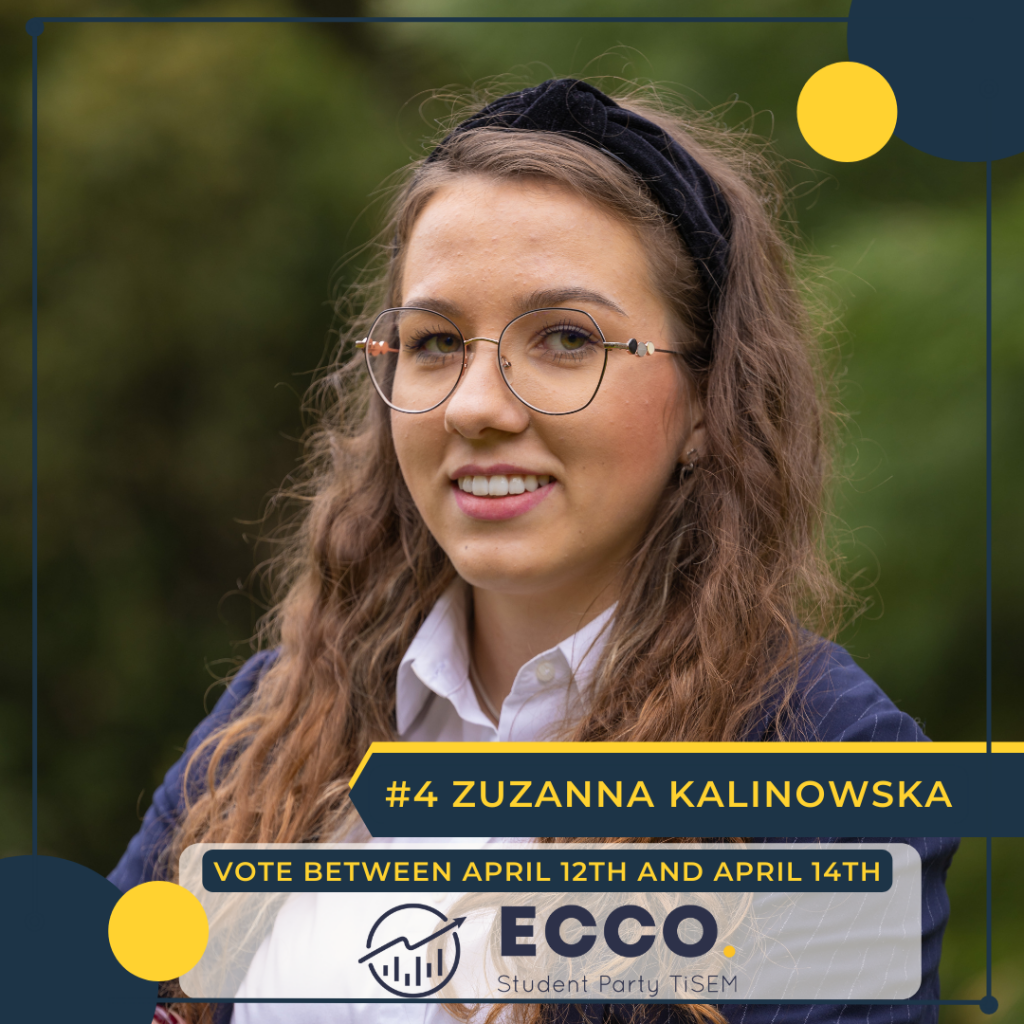 My name is Zuzanna Kalinowska and I am glad to be one of the candidates of Student Party ECCO for Faculty Council elections. As board members of ECCO, we will help the Faculty Council to understand the issues that students face and propose the most suitable solutions for all of our student community.
I am a first-year economics student coming from Poland. I've taken many lessons with me from my high school in the role of the member of the School Council and hope to get a chance to apply them in the upcoming academic year.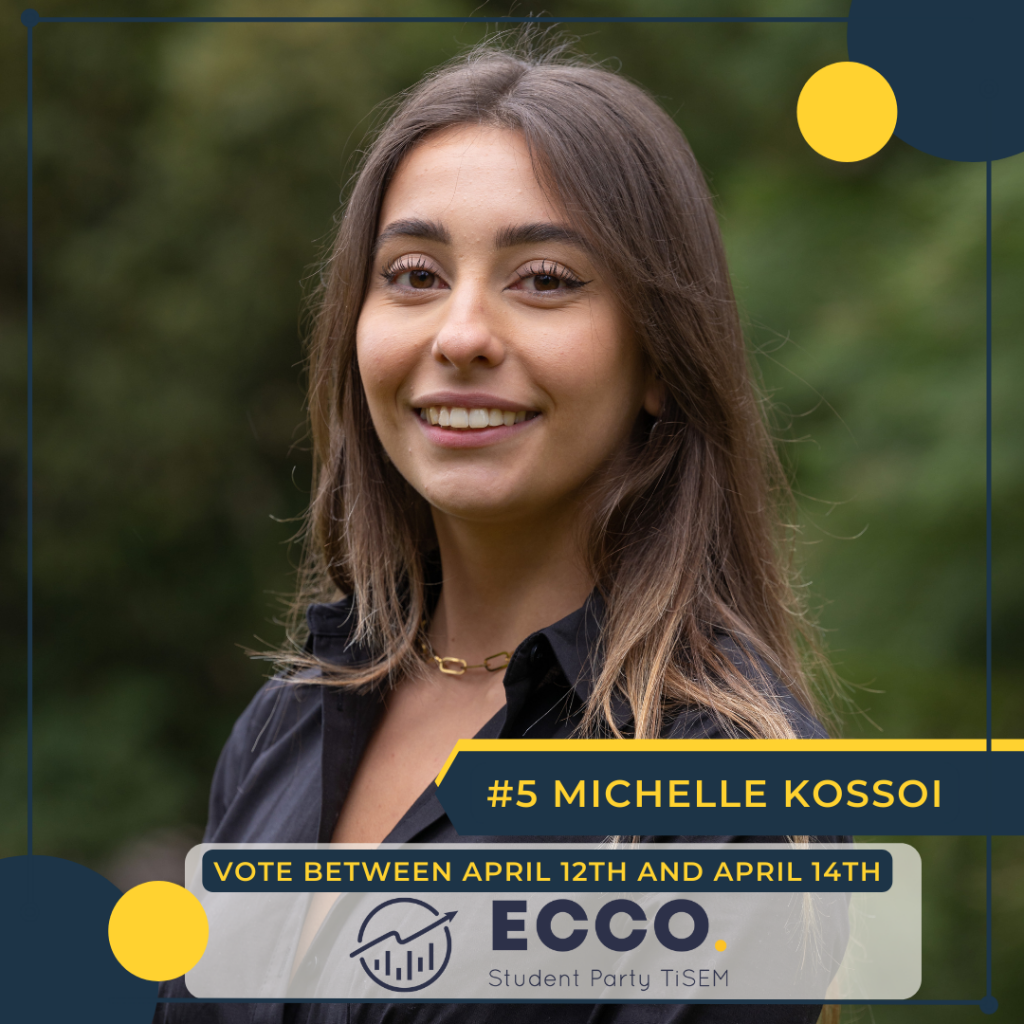 My name is Michelle Kossoi and I am proud to be part of ECCO's list of candidates for the 2022-2023 Faculty Council.
Currently I am in my second year of International Business Administration which triggered my interest in Marketing and Management. Since I am an international student myself, who has lived in different countries, I know how it feels to get out of your comfort zone and know how challenging this might be for new students who have left their home for the first time. Being an Ukrainian who was raised in Germany, I have learned how to be comfortable around other cultures and perceive this as an asset of mine . Being exposed to an international environment has taught me the importance of communication and transmission of valuable information.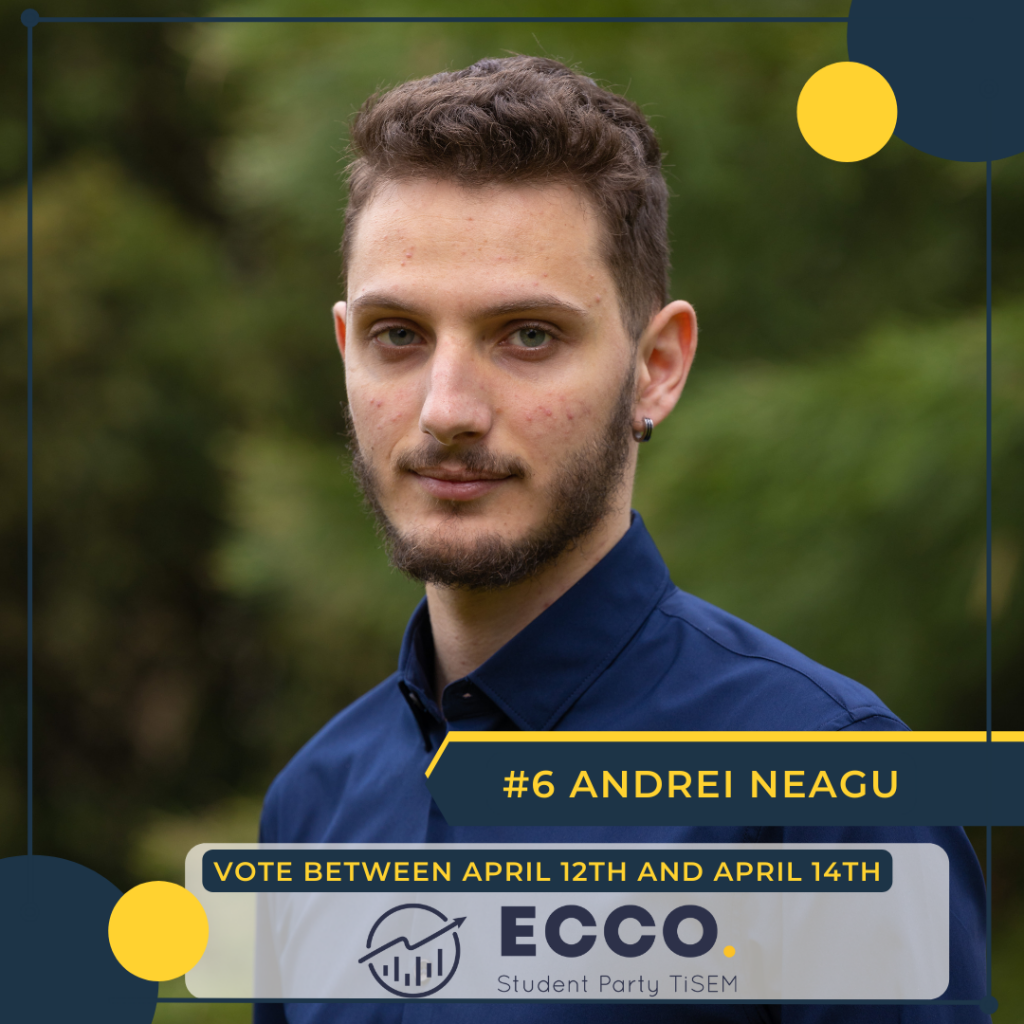 My name is Andrei Neagu and I am proud to be part of ECCO's list of candidates for the 2022-2023 Faculty Council. Together with my fellow colleagues I want to represent the interests of TISEM students and offer them the help they need to improve their student life.
I am a 20 year-old student coming from Bucharest, Romania. Currently, I am a third-year International Business Administration student and next year I am going to follow a Master's program at Tilburg University. Being an international student, during the last 2 years I have been continuously exposed to various cultures and I believe I have gotten to know several of them to the point that I feel I can represent TISEM students.